Why study at GDA6?
The Sixth Form at George Dixon Academy has high standards in all respects. Students study for GCE A levels and Btec level 3 qualifications; most of our students progress to University. Students in the current Year 13 have offers to study at some of the most prestigious universities in the UK, including Manchester, Birmingham, Queen Mary (University of London), Liverpool, Leeds and Goldsmiths. The high level of academic challenge, coupled with strong pastoral support, helps to ensure that students meet and exceed the targets set for them.
The Sixth Form is based in a new, purpose-built block with common room, study area and teaching room. Students are encouraged to develop their independent learning skills through organising additional study sessions outside lessons and many have made excellent progress through this process. The leaders of the Sixth Form seek out additional enrichment opportunities for students to maximise their chances of successfully entering higher education. These opportunities include visits to Universities, work experience and talks from professionals in arrange of fields. Students are also encouraged to explore international opportunities: recent visits include a History visit to Auschwitz and a delegation travelled to Sarajevo in Bosnia to learn about the Muslim genocide.
Any students currently in Year 11 at other schools are welcome to visit the Academy for a tour of its facilities and to discuss their specific post-16 plans with Sixth Form leaders. Please contact the academy on 0121 566 6565 or email gda6enquiries@georgedixonacademy.com
Useful Documents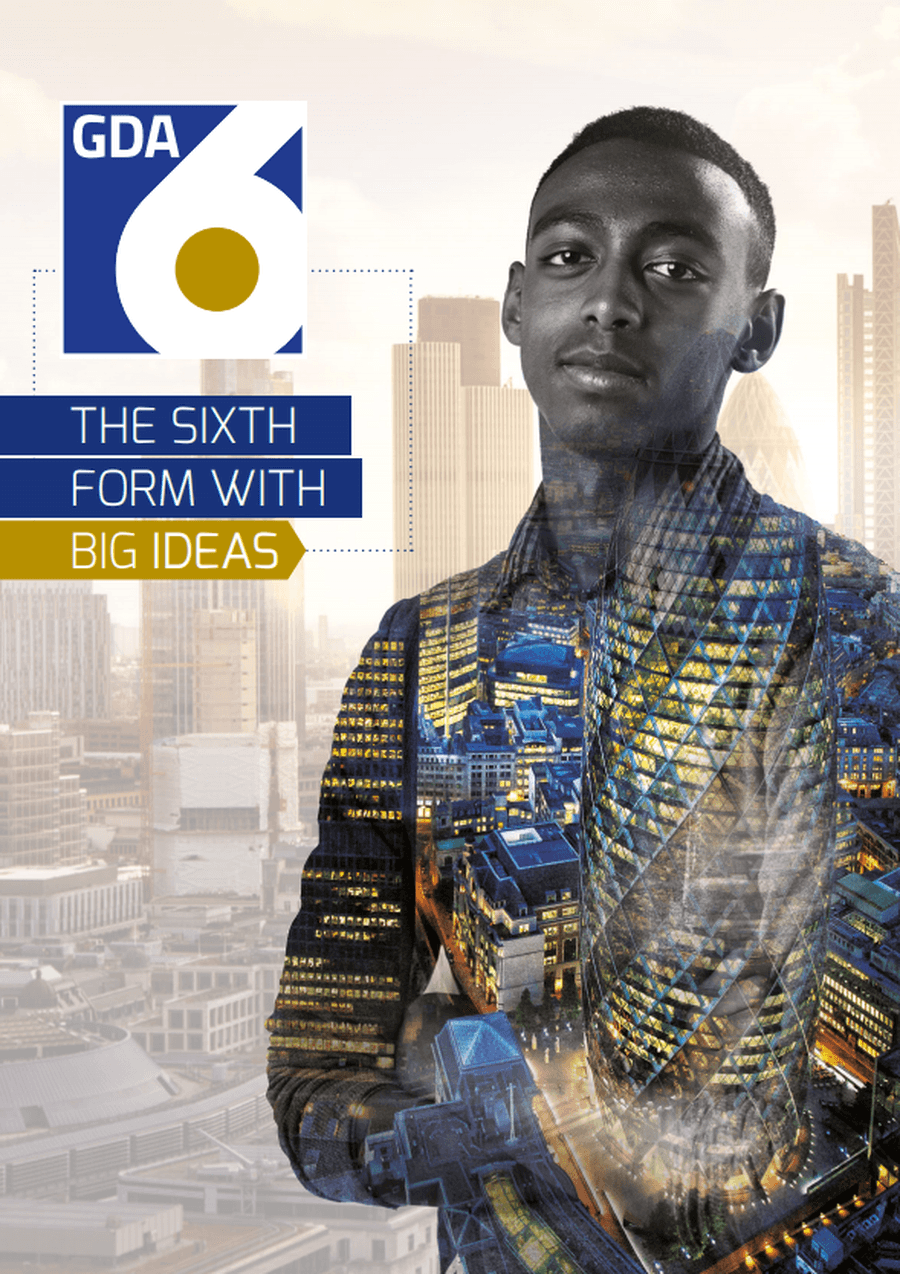 subject information
gda6 news
The Summer Fair 2017
The whole purpose of organising this event was to encourage and emphasise the honourable act of giving which has been implemented by George Dixon Academy throughout the years. Having discussed which charity to support, GDA6 all agreed on donating for people who were suffering from an illness and as a result we opted for Help Harry Help Others. This decision was easy to make as in that same week Harry's mother came and explained the work of the organisation and the positivity Harry brought, even after his death.
Rukhsar and I only had a week to organise this whole summer fair, everything had to done in a hurry! We began by making bracelets from the beads provided by the charity and selling them for £1 which made sure that students left with a token of Harry as well as fun memories. The stalls had been allocated to every department, hence this included a variety of educational and fun activities such as a spaceship activity organised by science, sponge the teacher activity and numerous of other stands which strengthened the bonds between the students and teachers. A personal favourite was the sponge the teacher, as Mr Hamilton volunteered to be a candidate for the torture! However, on the positive side a staggering £100 was donated by staff just to ensure Mr Hamilton was fully drenched, so hands up to Mr Hamilton, thanks for taking it for the team. Mrs Forder, Mrs Bakewell and Miss Darwood all helped ensure that the event was a success and as a consequence we raised a total of £1324.50. A fantastic charitable event engineered in such a short space of time.
"All it takes is an idea, which can then go ahead and become your greatness"
Haashym, Year 13
Auschwitz
On the 12th of February 2018, two A-Level history students and Mr Hamilton travelled to the city of Krakow in Poland to visit the Nazi concentration camps. We visited Auschwitz 1 and Auschwitz-Birkenau (the largest concentration camp) built in previously occupied Poland by the German Nazis.
George Dixon Academy was given the opportunity to take part in the Lessons of Auschwitz Project set up by the Holocaust Educational Trust. It's difficult to fully comprehend what the detainees experienced, however it's critical to attempt to so that we can to keep the memory alive, to gain from the past and to remain cautionary as comparable things are still happening today. We have a duty to act as stewards, protecting, and ensuring that information is shared about things like the holocaust and to discuss them.
Quickly in the wake of arriving in Krakow, we were taken to the town 'Oświęcim' where the two camps were found and where the nearby Jewish people lived before the beginning of WW2. There are structures committed to the Extermination plan, to the tremendous and to the monstrous tests led by Doctor Mengele (the 'Angel of Death'). Other displays showed mountains of shoes, personal belongings, suitcases with names on them and even the human hair of the victims. The rooms with the casualty's assets were unquestionably the hardest to visit. At that point, we ventured out to Auschwitz-Birkenau (which is only 3km away from Auschwitz 1) and this is the camp that is generally connected with the gas chambers and heartless living conditions. It held a total of 1.5 million individuals, the majority of whom were slaughtered. We were given the opportunity of stepping into the actual site of the slaughter which was the gas chambers. A few students were numb, some responded with a blend of feelings but no amount of preparation, whether intellectual or emotional, can ready someone for the experience that is Auschwitz.
The concluding part of the visit in Krakow, and one of the most memorable experiences, was the ceremony held by a Rabbi next to the destroyed crematoria. At this point, it was quite dark outside and we sat in the freezing cold, in the snow in the camp but no one really minded because we were there to pay our respects to the dead. Prayers were read in Hebrew and we listened to some poems and written testimonies of the prisoners. The day ended with a moment of reflection and students lighting candles near the destroyed crematoria and a long, cold and silent walk back to the coaches.
It's impossible to even begin imagining the pain, anguish, hunger and emptiness the prisoners in Auschwitz experienced. A last, yet recurring, thought is that it is now upon us to learn about and remember events like the holocaust so that the persecution of minorities is a thing of the past and not of the future.
"ARBEIT MACH FREIT" (Work will set you free).
Exeter University Programme
Exeter University offered us the honour of participating in a summer school program at their campus. This was an amazing opportunity to deepen our knowledge of university life and to experience what a prestigious university, part of the Russell Group, would expect from their students.
In this summer school I was able to interact with university students who study a variety of different courses; we went to lectures about the courses we would like to study at university which allowed us to gain an insight to our personal preferred course of study at university. In addition, we stayed in university self-catered accommodation where we were able to socialise with students from other areas of the country.
Whilst at the university we split into smaller groups, where each group had the opportunity to gain a deeper understanding in their preferred area of study. I decided to do psychology, although this wasn't a subject that I have learnt about in school but it was a subject that intrigued me. On the final day my group were taken to a local zoo, in order to see how different animals behaved in their habitats.
In order to collect data for our geography non-examined assessment, we visited Dorset in October, 2017. This was an amazing opportunity to deepen our understanding of the topics by experiencing everything first hand.
On this four day trip, we stayed at Harrow House where the staff were lovely and very welcoming. Our trip was slightly interrupted by Storm Brian but that was wonderful! The ten geography students were accompanied by our two geography teachers and Mr Hamilton, our headmaster, also joined us half way through the trip. We visited various beaches and locations to collect data for all of our NEA topics which were different to each other. Harrow House had a range of facilities that we fully enjoyed after we came back from the locations we visited each night. One evening we had booked the sports dome and played football, the other evening we also watched a movie which was quite joyful because we worked and also had fun.
We also walked into Swanage Bay which was very close to the place we were staying and enjoyed fish and chips with a beautiful sunset. All in all, it was a very enjoyable trip and we also achieved our aim of collecting all the data that we have used in our NEAs.
What we did in Bosnia
We met Resad, who was part of the charity, Remembering Srebrenica, and also our tour guide for the whole of our visit. First, he took us to the Tunnel Museum, where people they would have to crouch or crawl through as it was very narrow, in order to deliver supplies. It was built under Sarajevo airport and was the only route in and out of the city during the siege.
The next day, we visited the 'city centre' of Sarajevo, exploring the culture, food and attire that were on display. We then visited the War Childhood Museum, which was a memoir of toys and objects that once belonged to children during the war. This was very emotive as the children had so little to play with and the war totally changed their younger years.
On the very next day, we took a 3 hour journey to Srebrenica, and met Hasan, who showed us the old UN baes. He showed us a documentary commemorating the events which took places during the war, along with testimonies. His personal experience was chilling and meeting one of the Mothers of Srebrenica was and extremely emotional time.
Finally, we were taken to the memorial, where thousands of gravestones and names were on display. It ran to the left and right, as far as the eye could see. There still are spaces to be filled after some bodies still have not been found. Families had lost all of their male members, and seeing the names listed in this way really brought to life the destruction that the genocide had brought upon this community.
On the last day, we went to the Jewish Museum situated an old synagogue, full of history and art. We also visited a mosque and went to see the Catholic cathedral. Sarajevo is a shining beacon exemplifying how people of many different cultures and beliefs really can live side by side.
UCAS Conference 2017
On Monday 12th June 2017, Year 12 attended a UCAS conference at the NEC from 11am-4pm. Upon arrival we were greeted by UCAS staff who gave us a lanyard and information leaflets on what UCAS is, and how they can help with any questions that we may have about applying to university, and our personal statements.
In the main hall, there were more than 40 stalls set up by universities and companies offering apprenticeships such as Jaguar Land Rover, Rolls Royce, Deloitte and KPMG . Some universities had various pieces of technology such as Samsung gear headsets. We walked around the stalls and spoke to the staff from the universities we were interested in and they gave us more information about the entry requirements for our desired courses and told us about the new and exciting facilities in place specifically for them. We collected their prospectus which provided us with more information about the campus facilities, what the city life is like, nearby places for leisurely activities and what else can be expected from the university. The universities that attended included: Exeter, Aston, UOB, BCU, Oxford and Manchester. There were also tents/hubs set up where speakers gave students more information about their chosen course and university specifically through headphones.
Prior to attending, many of us were not completely sure about what course we wanted to be on and what arrangements were in place if we needed extra support in our studies, or if we didn't get the exact grades our chosen university wanted. However, we all agreed that the trip had proven to be valuable in helping us to be more confident about what we wanted to do in the future. Some even changed their path completely as they were able to gain knowledge about a greater variety of courses.