Law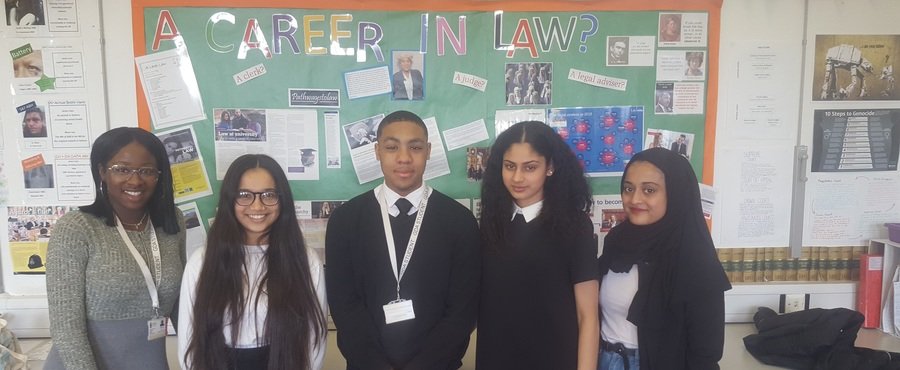 Examination board: AQA
Why study law?
There are many benefits of studying A Level Law. The AQA A-level Law course provides you with an understanding of the English legal system and substantive law, including both criminal and civil law. Law links all aspects of society. It helps to develop a range of transferable skills: analytical skills, attention to detail, logical thinking, research skills, essay writing skills and the ability to produce a balanced argument. This will assist students in higher education, in the workplace and in everyday life.
WHAT WILL I STUDY?
AQA A level law is divided into three papers:
The English Legal System is a topic that occurs in all three papers:
Nature of law
Law and society
Law and morality
Law and justice
The rule of law
Parliamentary law making
Delegated legislation
Judicial precedent
Law reform
The European Union
The legal system: the civil courts and other forms of dispute resolution
The legal system: the criminal courts and lay people
The legal system: legal personnel and the judiciary
The legal system: access to justice and funding
Paper 1: Criminal law
The rules in criminal law
Theory in criminal law
General elements of liability
Fatal offences against the person
Non-fatal offences against the person
Property offences
Preliminary offences
Defences
Paper 2: Tort
The rules of tort law
Theory of tort law
Liability in negligence for physical injury to people and damage to property
Liability in negligence for economic loss and psychiatric injury
Occupier's liability
Vicarious liability
Defences
Remedies
Paper 3: Contract
Formation of a contract
Contract terms
Vitiating factors
Consumer Rights Act 2015
Exclusion clauses
Discharge of a contract
Remedies
How will i study?
This qualification is linear. Linear means that students will sit all three exams at the end of the course. This qualification is purely examination assessed, meaning that there is not a coursework element.
Lessons will be engaging and exciting and will require participation in discussion and debates. Regular class assessments will enable students to reflect on their achievements and evaluate your areas for development.
Do I need to have studied GCSE Law?
There are no specific GCSE Law requirements, but a wide range of high GCSE passes would be expected. Law involves lots of reading and essay writing so a grade 4 or above in English is required.
Career opportunities
A level Law will enhance your chances of being accepted into university, either to take a law degree, a social science, or business degree, or any other course of study.
So, whether you want a career in the law, or in other areas like education, human resources, finance or business, A level law can really open doors for you.
Extra-curricular activities
In year 12 you will visit Birmingham Magistrates Court and Birmingham Crown Court. The visit will enable you to watch criminal court cases in session as you begin to understand court processes, key terms and the roles of those involved with the court. In Year 13 you will visit a Civil Court and Tribunals, enabling you to apply your knowledge of Tort Law into "real life" cases.
You will be encouraged and supported to apply for legal work experience, often in a local solicitor's firm. George Dixon Academy has liaised with a local litigation lawyer who will visit your law class to support you with your applications and CV writing.
Each year at least one student has been successful at gaining a position on the Pathways to Law Programme. The programme was established to inspire and support academically-able students in year 12 and 13 from non-privileged backgrounds interested in a career in law.
Testimonies from students studying law at the academy
"Law is a challenging but intriguing subject that leaves you very opinionated and ready to change society!"
Anisha, Year 13
"Studying law has changed my attitude towards the world. My ambition to study law at university came from studying A level law. I will be studying law at the University of Birmingham and hope to become a solicitor and make a real difference to the most vulnerable people in society."
Selina, Year 13
"Before doing the course I thought law was just about how the police imprisoned criminals, but now I am able see that the law is much greater than that. It aims to protect the public and affects the communities around us, but is not always successful in doing so! Now I have been inspired to study law at University."
Omar, Year 13: