Economics
What is Economics?
Economics is the study of markets, in particular how they work, why they fail and how they can be effectively managed. Britain's economic performance both at home and abroad can be assessed and policies designed to promote welfare and growth can be evaluated.
This course will appeal to students who enjoy studying a subject that affects their everyday lives. No previous experience of economics is required but an interest in national and international affairs is desirable. Economics can be combined with social science and humanities subjects. You should learn how to develop an understanding of economic concepts and theories through a critical consideration of current economic issues, problems and institutions. By the end of the course you should be able to apply economic concepts and theories in a range of contexts and to appreciate their value and limitations in explaining real-world phenomena. You should also know how to analyse, explain and evaluate the strengths and weaknesses of the market economy and the role of government within it.
What will I study?
Economics (AQA 7136)
Economics is a real-world subject that affects everyone! It is about our economic system and how it operates. Inevitably, it is also about problems such as unemployment, rising house prices, taxes and all currents affairs.
You will investigate micro and macroeconomics. Microeconomics addresses issues such as: 'Why are house prices so high in some areas?', 'Can pollution be controlled effectively?' and 'Should governments interfere with markets?'. The macroeconomic issues covered include: 'Why does the government have a target and how does it affect us?', 'What happens to the economy if people decide to spend more?' and 'How are we affected by the Chinese and Indian economies?'.
This is a linear qualification studied over two years. The A level course comprises three papers: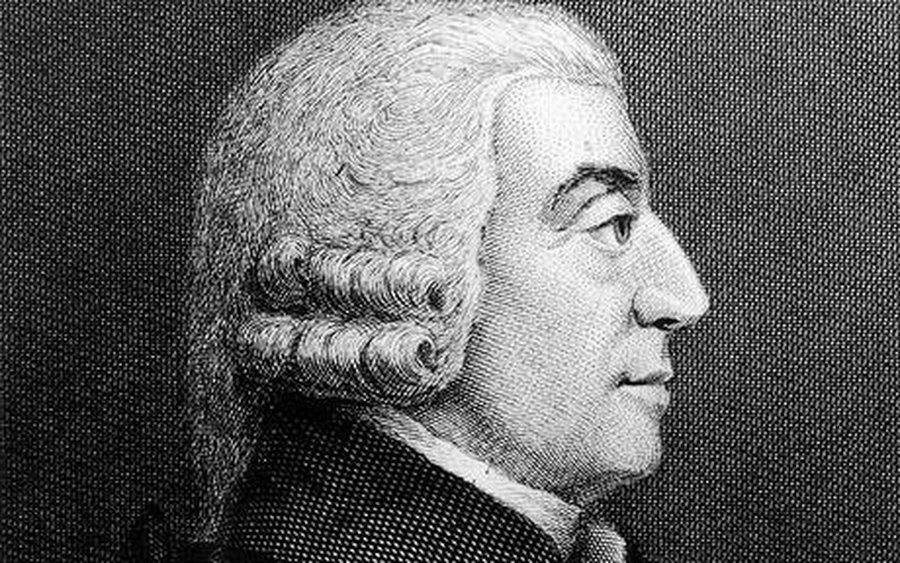 Adam Smith, an 18th-century philosopher, renowned as the father of modern economics.
Paper 1: Markets and market failure (Written exam: 2hrs, 33.3% of A level)
Economic methodology and the economic problem; individual economic decision making; price determination in a competitive market; production, costs and revenue; perfect competition, imperfectly competitive markets and monopoly; the labour market; the distribution of income and wealth – poverty and inequality; the market mechanism, market failure and government intervention in markets.
Paper 2: The national and international economy (Written exam: 2hrs, 33.3% of A level)
The measurement of macroeconomic performance; how the economy works – the circular flow of income, AD/AS analysis and related concepts; economic performance; financial markets and monetary policy; fiscal policy and supply-side policies; the international economy.
Paper 3: Economic principles and issues (Written exam: 2hrs, 33.3% of A level)
A synoptic paper, thirty multiple choice questions and a case-study paper, based on the syllabus content already covered in Papers 1 and 2.
Why picking economics is a no brainer
At first the thought of picking economics was based upon my hope to go into the accounting industry. I still remember when we started our first class, wondering about what economics would look like. As the months progressed my curiosity and love for the subject gradually grew. After understanding the basics of the subject, I enjoyed questioning and challenging concepts.
The great thing about economics was the practical aspect. Relating what we learned in the class into real life was almost constant revision. In microeconomics learning we could use local business to help understand concepts, like helping me understand why businesses decrease prices. With macroeconomics it meant that political deals and policies made much more sense. How can I forget the interactive and informative lessons with Mr Tunney, arguably the highlight of much of my time at sixth form.
This blend of a brilliant and relevant subject, looking back would be a no brainer. It helped me have very intellectual conversations about subject matters like tax, at interviews and just for general conversation. Debating what businesses or even countries could do to help increase profit or even reduce unemployment. As everyone who knows me can tell you debating and understanding politics is what I live for.
To conclude economic is a subject I would suggest to chose as an a-level subject as it brings together great teaching and lessons with a great subject.
Mohammed Raheem, 4th October 2018
How will I be assessed?
At A-level you will sit three two hour written exams, each worth a third of the qualification. All three papers will include a range of question styles.
Progression Opportunities
Economics is a great starting point for those looking for a career in finance, business or politics. However, it is also useful for a range of careers including marketing, law, journalism or teaching.
Higher Education Opportunities
The top seven degree courses taken by students who have an A-level in Economics are:
Economics
Business
Politics
Accounting
Management
Mathematics
Finance
extra-curricular activities
Students have made enrichment trips/visits to the:
Coca Cola manufacturing plant in Milton Keynes
Institute of Economic Affairs lectures
Aston University lecture by Professor David Bailey
November 2018 Year 13 trip to BHSF
Entry Requirements
Students should have minimum grades 5 or higher in English and Mathematics.
USEFUL LINKS