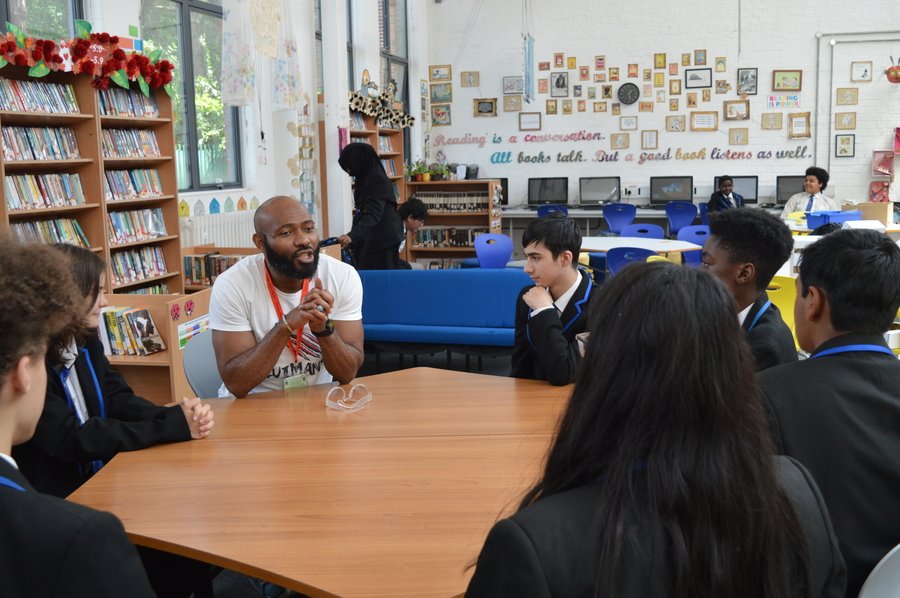 Steve Tchoumba
Class of 2006
Steve started here as a student in 2001. Steve had an interview with Mr Mann, but Steve didn't speak English so Mr Mann spoke French. His favourite subjects at school were Music and Drama. He was a very good student and became the head student in Year 11.
Steve left George Dixon in 2006 and went on to Coventry University. He returned to George Dixon to become a Teaching Assistant. He is now a director of a company called ActivSpaces which is a tech hub in Cameroon. This company is for young Africans to transform their ideas into businesses. Steve hopes to get involved in politics in the long term. His favourite colour is brown.
Good luck in the future, Mr Steve!
Priva Mahmoud, 9.1
I bumped into Steve Tchoumba who was a student here at George Dixon Academy.
He started here as a student in 2001 and he was very good at Maths and the experience was fun. He was allowed to play music and work with other schools. After he left George Dixon he went to Coventry University. He is now an executive director with an ActivSpace. He also participated in the Archbishop Tutu Fellowship Programme.
Sehar Shabraz, 9.1
PAUL CUTMORE
CLASS OF 1982
I attended George Dixon from 1977 to 1982. I lived on Summerfield Crescent near the reservoir and although I experienced some challenging situations, I can honestly say I loved my time at George Dixon, so much so that I set up a group on Facebook called George Dixon school friends, for ex-pupils to reminisce and post photos and memories. It is now at over 1400 members, I think that shows that people really can look back on their school days fondly. As a child I started out quite shy, but George Dixon brought me out of myself to the extent that I have had a career in sales ever since, my ability to be able to speak to anyone and build relationships, I completely put down to my time at George Dixon.
Brian Adams
Class of 1970
Brian was born in 1952 in Rotton Park Road (withing a 1d bus ride of George Dixon!). He went to City Road Primary school and developed a passion for all things sporty! He was actually born at half time on the FA Cup Final Day in 1952 when Newcastle beat Arsenal 1 - 0 and he has a programme from the match!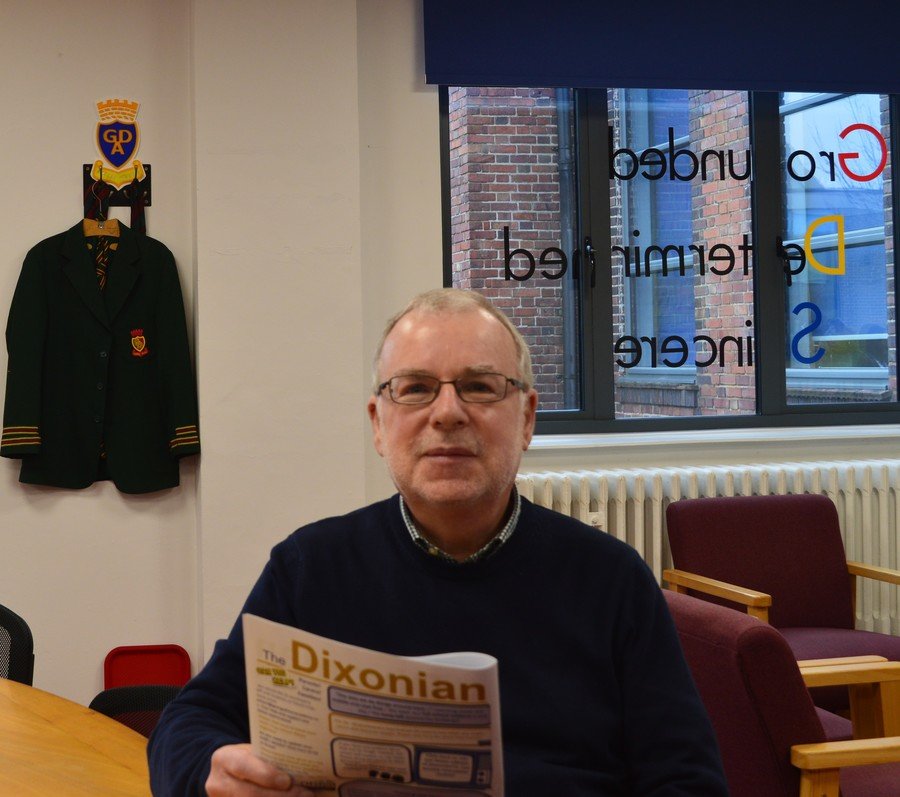 Professor John Posnett
Class of 1970
Who was your favourite teacher at George Dixon?
John Endall, the Headteacher at the time was Mr Mends.
What is your favourite memory of your time here?
I made a lot of good friends. I loved George Dixon and owe my whole career to this school.
What did you do after George Dixon?
I studied Economics at The University of York for three years, graduating in 1973, before becoming a lecturer and professor of Economics there. I worked within Economics for 46 years!
What advice would you give current George Dixon pupils?
Choose a job that you enjoy doing.
What is your favourite colour?
Blue.
What is your favourite sport?
Golf!
Ruqiya Abbas-Bashir, 8.6 & Husnah Touryakhil, 8.4
Martin McGuinness
Class of 1968
Martin grew up in Winson Green, about half a mile away from the prison. He lived in Heath Street, there was a big GKN factory at the bottom of the street which seemed to go on for ages. There were 8 children and Mom and Dad in the three-bed council house. It got a bit crowded as they all grew up. They eventually moved into Stirling Road, Edgbaston, to a house more suited to their needs. The move took place just as Martin was leaving George Dixon after his fifth year and completely messing up his 'O' levels, ending up with three. Maths, Chemistry and Geography, all grade 6 if his memory is correct. He feels it's his fault as he didn't work hard enough, and he also had developed a passion for playing pinball machines, and to this day, he doesn't don't know why, but it passed the evenings away when he should have been studying.
He still lives in Birmingham, just off the Hagley Road behind the Cock & Magpies pub which is now a Miller & Carter Steakhouse. He still keeps fit and plays tennis. He goes out running and still lives within a mile of George Dixon.
He has been married for 46 years, still with the same girl! He has two boys, one is a teacher in Dronfield (between Chesterfield and Sheffield), he is 36. The other is the Midlands Are rep for Tarmac, he's 28 and he can't get rid of him, he's been 'moving out' for three years!